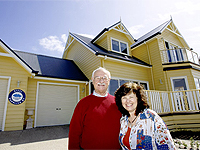 Ultra-Modern Technology Meets Country Charm
10 January 2006
A Victorian based marketing and design company specialising in recreating farm houses is using the latest computer technology to help bring designs to three dimensional life for clients.
From quaint English farm cottages to rambling American ranch homes, Farm Houses of Australia recreates homes boasting authentic, period country character and charm, while offering modern style and flexibility.
Farm Houses of Australia's computer aided design (CAD) service allows floor plans to be converted into 3D format, and this specialisation in concept drawings not only allows clients to better visualise their future homes, but allows design changes to be made easily before construction starts.
The owners of Farm Houses of Australia, husband and wife team Ron and Rysha Hosking, have been specialising in this style of home for the past 15 years.
"The modelling program allows clients to even place and rearrange furniture on the floor plan to ensure the final layout is completely suited to their needs and taste," says Ron Hosking. "There's no more struggling to visualise what a home, both inside and out, is going to look like from basic plans."
South Frankston local Christine Graham recently moved into her new four bedroom, two storey weatherboard home and was thrilled with the result.
"We wanted a bright, homely place with character," Christine says. "Being able to see the design in 3D really helped us finalise the details."
Farm Houses of Australia worked with builder Doug Law of Construction by Law on the house with an attic style roof. The colour scheme of yellow exterior with a roof made from COLORBOND® steel in the colour of Shale Grey™ completed the property's country feel.
Ron Hosking said Farm Houses of Australia only used roofing made from COLORBOND® steel because it was an excellent product which consistently delivered good results.
"The aesthetics of steel roofing also suit the styles," Ron says. "We use a lot of the Deep Ocean® as this colour blends with the sky. Cottages and homesteads traditionally involve colour schemes using Classic Cream™, Cottage Green® or Manor Red ®. We have also found pale greys, like Shale Grey™ and Windspray®, are becoming more popular.
"Farm Houses of Australia is a company where attention to detail is of utmost importance. We encourage clients to consider variables such as the home's aspect and the views from all windows and verandas, the benefits of natural light and its implications for positioning the house on the block."
Farm Houses of Australia designs homes in stone, bricks, cedar and traditional weatherboards that meet clients' exacting requirements. The company recently joined the Steel By BlueScope Steel brand program to highlight its preference for quality steel originating from Australia's leading steel manufacturer.