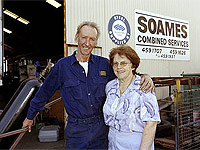 Underwater World Beckons for Disabled
31 May 2005
A specially designed lift made by Perth based Soames Combined Services is enabling people with reduced mobility to enjoy a trip underwater to observe aquatic life in its natural environment. Soames Combined Services manufactured and installed the unique four level lift for the two kilometre long Busselton Jetty Underwater Observatory in south western Western Australia.
The observatory, on the longest jetty in the southern hemisphere, needed to meet state access laws by providing access to persons with limited mobility before it could open its doors to the public.
"We manufactured the lift in one piece, a 13 metre long framework, in Maddington, before transporting it by road to Busselton, ferrying it on a barge to the jetty and craning it into the lift shaft," said company director Ann Soames.
Soames Combined Services' products are fabricated using steel manufactured by BlueScope Steel and purchased from OneSteel. The company joined the Steel By Brand Partnership Program recently to highlight its use of quality steel from Australia's leading manufacturer.
"We prefer to use genuine Australian steel manufactured by BlueScope Steel primarily because it underpins our reputation for quality," said Ann Soames.
"The Busselton Jetty Underwater Observatory lift project took 12 months to complete, but was by no means our first work to benefit the mobility impaired."
Ann's husband, George, founded Soames Combined Services in 1987 and Ann joined him after six months. They pioneered equipment to help the handicapped in Western Australia. Their company was the first manufacturer of wheelchair hoists in community vehicles such as those used by the state's St John's Ambulance organisation.
It also manufactures lifts for access by disabled persons to two and three level buildings such as schools, small commercial buildings and residential properties, as well as goods hoists and tailgate hoists for vehicles.
For more information contact:
Ann Soames
Soames Combined Services
Ph: 08 9459 2779