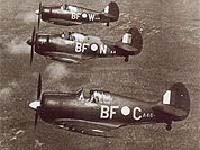 Unusual Alchemy Gives Birth to a Steel Industry - Section 2
23 January 2003
Wartime wonders

Even more remarkable achievements lay just over the horizon, as Australia's steel companies did their bit for the war effort.
Both BHP and Lysaght undertook major expansion at Port Kembla in the late 1930s, and both companies diversified into areas that would be rather surprising in peacetime. In 1936 BHP joined forces with Broken Hill Associated Smelters Ltd and four other companies to form Commonwealth Aircraft Corporation Ltd, thereby giving birth to the nation's aviation industry.
The CAC plant at Fishermans Bend produced more than 1000 aircraft during World War 2.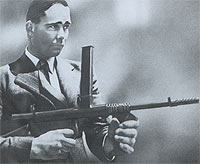 Lysaght's surprising wartime contribution was the Owen sub-machine gun, which was developed by Wollongong inventor Evelyn "Evo" Owen. His prototype was shown to Lysaght managers who brought it to the attention of BHP chief Essington Lewis, who was also in charge of Australia's wartime munitions production.

After testing in 1941, the gun went into production at Port Kembla, with parts supplied by Lysaght's Newcastle plant. Production of the Owen gun, which became known as "the Digger's darling", peaked at 800 a week, and 45,000 were made.
Less surprising pre-war and wartime developments included BHP's preparations to build a blast furnace at Whyalla in 1937, its commissioning of Port Kembla's second blast furnace in 1938, and the completion of Kembla's fifth open hearth furnace in 1939. By 1940 it had also built a shipyard at Whyalla and was laying the keels of two new patrol vessels. Of course, one of the company's greatest contributions was the already mentioned role of Essington Lewis in wartime procurement.

Meanwhile, Lysaght had become BHP's Port Kembla neighbour in 1939 when it established its second Australian plant, the Springhill Works, beside the AIS works. In the same year Lysaght formed an equal partnership with American Rolling Mills Company to set up the Commonwealth Rolling Mills at Port Kembla. CRM met a strategic demand for steel for Australian automotive and appliance industries, and Lysaght developed and made many special steels. Among them were electrical and helmet steels, bullet proof plate and aircraft steel. Shortly after the war, in 1947, Lysaght took over full control of CRM.

Post-war boom

When the soldiers came home from war, a baby boom was not the only sort of boom that happened. The years that followed would bring a seemingly endless run of development for Australia's steel industry. One of the first big announcements came in 1946, when AIS revealed its plans for a Flat Products Division, the products of which now feature in Steel In Focus.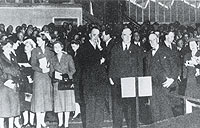 By 1955 the Division was an operating reality, with the commissioning of its hot strip mill by Prime Minister Sir Robert Menzies. The mill cost 40 million pounds and had a capacity of a million tons per year.
In a parallel development, Lysaght transformed the efficiency of its operations by replacing its sheet-fed machinery with a four-stand continuous cold reduction mill to process the output of the nearby hot strip mill.
Year after year the developments came. In 1956 AIS began its No 2 works with the construction of the No 2 open hearth furnace. In 1957 it added the sinter plant, and two years later the No 4 blast furnace. Big news for 1961 was BHP's new ferro alloy plant at Bell Bay, Tasmania, followed in 1962 by its new Basic Oxygen System (BOS) furnaces at Newcastle to replace the open hearth system. BOS came to Whyalla in 1965, as did a second blast furnace and a rolling mill.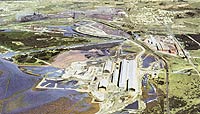 Lysaght was also on the move, expanding both its facilities and its product range. In 1961 it commissioned its first continuous galvanising line at Port Kembla and began building its network of steel service centres around Australia.
Throughout the 1960s it introduced special sheet steels such as Terne Sheet, with its lead and tin coating for fuel tanks, electrical chassis and fire doors, Marviplate vinyl coated steel, and Colorbond prepainted steel. In 1966, the year that Colorbond was launched, Lysaght closed its Newcastle sheet steel plant, but the following year it bought a 600 hectare site at Western Port and expanded its Springhill cold reduction mill from four stands to five.
Closer than ever

Throughout this period, BHP and Lysaght became ever more closely linked, with one providing feed for the other, and their major operations effectively co-located on one vast site at Port Kembla. It was hardly surprising that in 1969 BHP obtained a half share in John Lysaght Australia. The other half was by then owned by the British firm of GKN (Guest Keen and Nettlefolds Limited) which had superseded John Lysaght as the British parent company.

Around this time in the history of BHP, its achievements were spread across an ever more diverse portfolio. Non-steel milestones were increasingly important, with the first manganese from Groote Eylandt in 1966 and the first Bass Strait gas strike by BHP and its partner Esso in the same year. In 1967 BHP joined the Mt Newman venture to mine ironstone in the Pilbara.

BHP was in the process of becoming the multi-faceted company which would ultimately give rise to the two separate entities known in 2002 as BHP Billiton Limited and BlueScope Steel Limited.

With BHP's centenary approaching, there remained one more thread to be fully woven into its fabric. In 1979, Lysaght became a wholly owned subsidiary of BHP, bringing together three separate ventures into one proud Australian company.

Only the year before, Lysaght had commissioned its Western Port hot strip mill plant. In keeping with the proud history of BHP and its forebears, this plant was considered the most advanced of its type in the world - a boast which had applied to many of the milestone plants of past decades.

And so it was that in 1979 three histories became one. The pioneering ventures of Charles Rasp, John Lysaght and Charles Hoskins had finally come together in a great Australian steel company. It is often said that success has many fathers, but in the case of BlueScope Steel it is literally true.