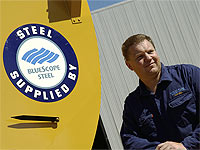 West Australian Farmers Slash Harvest Times
09 June 2006
West Australian grain farmers are now slashing harvesting schedules using mobile field bins developed by Esperance company Parker Silos and Sheetmetal.
Called WildCat Chaser Bins, these huge 20, 25, 30 and now 35 and 40 tonne capacity bins are hauled alongside harvesting machines (headers) in the field, collecting crop loads for deposit in farm silos.
As modern headers are capable of harvesting upwards of 60 tonnes of grain an hour, and capable of holding only a fraction of this capacity before needing to be stopped and emptied, Parker Silos and Sheetmetal recognised the need to keep the harvesting process rolling non stop.
With 19 years' expertise in the farm silo and sheet metal business, Parker Silos and Sheetmetal produced its first tractor hauled chaser bin three years ago, and production has been steady ever since.
While the 20 and 25 tonne WildCat Chaser Bins are single-axle models, the 30, 35 and 40 tonne models have optional tandem axles, capable of allowing them to work in any paddock conditions.
All are manufactured from XLERPLATE® steel, and Parker Silos and Sheetmetal is a member of the Steel By BlueScope Steel brand partnership program.
"There are other chaser bins on the market, but we believe ours are the best in Australia," Parker Silos and Sheetmetal marketing manager, Sean Christmass says.
"The sides of our units are extremely strong 6mm XLERPLATE® steel curved for additional strength and fast unloading, and our table and high reach discharge augers allow for fast unloading rates.
"In using XLERPLATE® steel, we are using a strong and superior product.
"We have also designed a 600 litre in built water tank for use with an optional fire fighting unit. Other manufacturers treat such water tanks as add ons."
The last thing farmers need is to find themselves, their workers and millions of dollars worth of equipment engulfed in flames while working in tinder dry conditions. Field fires can often be sparked by operating equipment.
Sean says inquiries for WildCat Chaser Bins have been rising rapidly, backed by a three year Limited Structural Warranty.
"We hope to distribute our chaser bins in the Eastern States and have been fielding export inquiries from South Africa," he says.
Parker Silos and Sheetmetal manager Daniel Parker says BlueScope Steel is well recognised among his customers for providing locally made, quality steel, whereas a lot of customers remain cautious about the quality of imported steel.
Joining the Steel by Bluescope Steel brand partnership program meant Parker Silos and Sheetmetal could align itself with BlueScope's quality reputation.
For more information contact:
Sean Christmass
Ph: 08 9071 5440