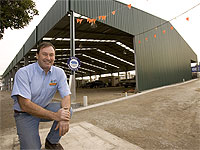 Woodchop Pavilion Showcases Steel Expertise
30 June 2006
A Victorian shed specialist is fast building a reputation for tackling major projects since successfully designing the Woodchop Pavilion at Melbourne Showgrounds.
Bayside Steel Structures used a computerised system to plan the building which was constructed in time for last year's annual show, and which will remain as a permanent fixture.
Bayside Steel Structures owner Malcolm Robertson says his company won the job "based on value for money and turn-around time".
At 24 metres by 50 metres, the Woodchop Pavilion is one of the biggest projects Bayside Steel Structures has worked on.
"I enjoy working on bigger buildings," Malcolm says. "In fact the first building I designed was a factory."
Bayside Steel Structures is currently working on several private aircraft hangers and horse stables, and is experienced in dealing with Occupational Health and Safety issues.
However, Malcolm says the company typically deals with homeowners wanting to build garages and sheds.
Bayside Steel Structures can offer a fully personalised service - no matter what size the project is.
"There are no set sizes to our structures. We sit down with our clients and design sheds with them on our computer. For example, we can adjust heights on screen, and add roller doors where required."
After designing the building, ordering the products and delivering them, Bayside Steel Structures can also oversee construction.
Bayside Steel Structures is also a member of the Steel by BlueScope Steel Brand Partnership Program, and Malcolm says having BlueScope Steel signage up around the office helps highlight the company's use of quality Australian products.
For further information contact:
Malcolm Robertson
Bayside Steel Structures
Ph: 03 9773 9555