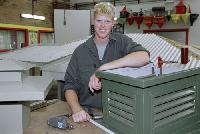 Apprentice Excels To Win Autumn Award
23 April 2004
A second year metal roofing apprentice from Albury has won the Autumn quarterly prize for the national 2003/2004 COLORBOND® steel Building Apprentice of the Year competition. Shawn Walsh of Jindera based Border Roofing Ltd in New South Wales was judged the Autumn quarterly winner of the 2004 National COLORBOND® steel Building Apprentice of the Year competition for his dedication to his work and studies.
Shawn, who attends the Gymea college, Southern Institute of TAFE, is currently enrolled in the metal roofing trade course, and has completed all modules at distinction grade.
Teacher Ken Smith describes Shawn as a standout student with excellent theoretical and practical skills.
"His level of commitment to his studies is shown by the vast distance he travels to attend training at Gymea from his base in Albury - he undertakes a seven hour drive to make his classes," Mr Smith said.
"His behaviour has been excellent and he shows a keen enthusiasm in all tasks - he has exceptional hand skills for a second year student."
Shawn, as winner of the Autumn quarter of the competition run by BlueScope Steel to support and encourage young apprentices in the building industry, wins a Microsoft Xbox valued at more than A$300, plus a certificate of his achievement.
Working for Border Roofing, Shawn travels over New South Wales and Victoria carrying out a wide range of work, from building large and small sheds to installing new house roofs and re-roofing.
He has also worked with roof sheeting, guttering and flashings made from COLORBOND® steel and ZINCALUME® steel in both his TAFE course and on the job.
Employer Nicholas Black, who nominated Shawn for the award, described him as an apprentice who is able to tackle anything.
"Shawn right from the very first day proved to be honest, hardworking and reliable," he said. "He is also a forward thinker, quick learner, and always shows an eagerness to improve his skills on the job."
The award is open to all building apprentices who have worked with or studied light steel framing, steel cladding, roofing or guttering anywhere in Australia during the 2004 financial year.
All nominations and quarterly winners go in the running to become the national 2004 COLORBOND® steel Building Apprentice of the Year.
Entries close on 30 June 2004 and the national winner will receive a trophy plus a A$3000 travel voucher to use at a destination of their choice.