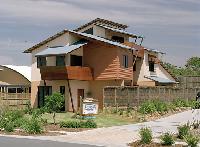 Beachfront Steel Architecture Irresistible
20 February 2003
Australia's newest beachside township is proving the allure of beachfront living in far northern New South Wales to increasing numbers of home buyers. The Casuarina Beach development has sold 480 allotments and 42 apartments worth more than A$110 million since its launch in March 2000.
The classic designs of Queenslander style homes and beach shacks that dot the coast from Byron Bay to Noosa are the inspiration for a contemporary Australian coastal style at Casuarina Beach featuring roofing made from COLORBOND® steel.
Casuarina Beach urban planner, Lachlan Grantley, said the development attempts to emulate the style of coastal architecture that has earned Australia international acclaim.
"The genesis of what we're really trying to do stems from the old Queenslanders which had corrugated steel roofs with large overhanging eaves - and from the beach shacks of the 1950's and 1960's," he said.
"Everything we do here in design is a derivative of all that, but more elaborate, with COLORBOND® steel used for roofing and also feature walls.
"Almost all the homes feature this lightweight architectural style of steel roofing," Mr Grantley said.
"To maintain this style of architecture that is such a feature on the Sunshine Coast around Noosa we actually discourage people from other roofing materials."
Casuarina Beach is a masterplanned community on 3.5 kilometres of absolute oceanfront in northern New South Wales, 15 minutes drive from Coolangatta airport.
On completion, Casuarina Beach will feature more than 600 contemporary designed homes, over 1,500 luxury apartments and villas, and three boutique hotels, serviced by a network of boardwalks, bikeways and local streets.
A town centre, the nucleus of the community will include grocery outlets, speciality shops, cafes, restaurants, a cinema and a School of Arts.
"Casuarina Beach was never going to be just another estate," Mr Grantley said.
"The idea was to create a special and distinctive Australian beach town that offered the very best amenities and a supportive community environment.
"The response from buyers suggests we've struck a chord."
For Further Information Contact:
Lachlan Grantley, Casuarina Beach
Ph: 07 3229 8350
Fax: 07 3221 7202
Email: lachlan@consprop.com.au