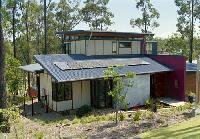 Steel Continues to Inspire by Design
22 January 2003
Architectural sophistication, attention to detail and an exotic blend of steel and other building materials are hallmarks of homes designed by leading Queensland builder B.V. McKenzie Building.
Brett McKenzie has created a spectacular showcase for his designs at Brookwater, a residential community and top rated Greg Norman designed golf course at Springfield on the southern side of Brisbane.
"Brookwater is a perfect and refreshing template to demonstrate what we're doing and the opportunities to maximise and place value into sloping sites," Brett McKenzie said.
The homes designed and constructed by his company are based on environmentally sustainable design principles.
A trademark element of each McKenzie home at Brookwater is the extensive use COLORBOND® steel for walling and as an architectural feature, including an inspired sense of colour choice.
"My philosophy is to empower people with the possibilities of what can be achieved to make the best use of a site, creating homes that give an impression of space and are light and airy."
In less than 10 years, McKenzie Building has developed a strong reputation in Queensland for its unique 'design-construct' services, and has won 28 high level industry awards since 1995.
The Brookwater Design Studio reflects McKenzie's credo of touching the earth lightly by creating a physical connection to the earth with a masonry blade wall, topped by a series of skillion roofs made from COLORBOND® steel in the colour Deep Ocean®.
"The masonry provides thermal mass to the passive elements of the home and provides a nice contrast to the lightweight suspended construction and the use of steel," he said.
"The flexibility of COLORBOND® steel never ceases to inspire.
"I also like the horizontal and vertical lines of steel sheeting in a design sense and find there are great synergies between modern tropical Australian architecture and Japanese philosophies in architecture.
"We can learn a lot in our urban development from the way the Japanese treat, respect and develop space," Mr McKenzie said.
"Architecture should be a celebration of the times we live in and one of the things I like about COLORBOND® steel is that it not only has passed the test of time, but it continues to inspire."
For Further Information Contact:
Brett McKenzie
B V McKenzie Building Pty Ltd
72 Junction Road
Karalee QLD 4306
Ph: 07 3812 7488
Fax: 07 3812 747
Email: sales@sustainablebuildings.com.au