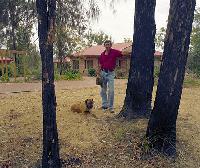 Steel Defies Bushfires' Double Jeopardy
28 January 2003
Standing amidst tree trunks still blackened from the 2001 bushfires, Eric Batten, pictured with his dog, Breeze, credits the choice of fire resistant building materials with twice saving his home from bushfires.
Bushfires swept through Eric and Kerrie Batten's property at Blaxton Ridge near Kurrajong in 1990 and 2001, destroying outdoor furniture and reducing the surrounding area to a blackened desert. However, their steel roofed buildings were spared on both occasions.
Eric is an active member of the Rural Fire Service and attributes the fire resistance of his family home to the use of COLORBOND® steel for roofing, gutters and fascias, and the structural house frames made from ZINCALUME® steel.
Kurrajong was one of the worst hit areas in the 2001 bushfires in New South Wales, which destroyed more than a dozen homes, isolated towns, and blanketed the state in a brown haze.
The first fire to strike the Batten property arrived two days before Christmas in 1990.
"Our gutters were fairly clear because I had cleaned them about two weeks beforehand. However we weren't here when the bushfire struck and a couple of fires started in the gutters on the garage," Mr Batten said.
"There is visible scorching of the gutters in a couple of spots, but being a full Nu-Steel building the fire had no eaves to burn into and nowhere to go.
"If the fascias had been made from more traditional materials, the fire would have taken off into the roof."
Kerrie said she learned later that the Bushfire Brigade had expected the house not to survive when they travelled past the property to fight the main fire.
"The 1990 fire was much hotter than 2001, with about 65 knot winds. The garage survived on its own, but everything else was just like a black desert," she said.
On Christmas Day 2001 Eric was away fighting the fires, while Kerrie Batten was at home with her two children and their dogs preparing the property, but hoping the fire would pass them by.
"The family stayed inside the house because it is often safer to stay inside than evacuate," Eric said.
"The fire passed right through the property and again the house survived mostly intact, but we lost everything around it - all the gardens, the pool equipment and pool shed, our irrigation equipment and all our fencing.
"There were no real fire issues with the house other than some leaves caught in a solar panel on the roof which burnt all the colour off the roof back to the bare metal, but went no further than that".
"In terms of fire resistance I'm very confident about having house framing made from ZINCALUME® steel and also steel roof, gutters and fascias, which are all a barrier to fire.
"If you build something from steel it's unlikely to burn - and if you can stop things from getting too hot, it's not going to bend or twist either."