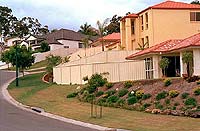 Steel Fencing Gains Ground In Family Market
14 January 2002
One of Melbourne's largest and most successful urban developments is highlighting a growing homebuyer preference for steel fencing. Fencing made from COLORBOND® prepainted steel is gaining ground due to its durability and low maintenance when compared to fencing made from alternative materials.
The Urban and Regional Land Corporation launched Roxburgh Park in Melbourne's northern suburbs nine years ago. Since then the residential development has matured into a community with established facilities and young families whose children have lived there all their lives.
Operations Manager, Ewan Wright, said there had been a significant move recently by Roxburgh Park homebuyers towards fencing made from COLORBOND® steel rather than timber for new and replacement fencing. He said COLORBOND® steel for Fencing was durable and needed little maintenance which made it attractive to homebuyers.
Fencing made from COLORBOND® steel also features in a special display at the latest display village at Roxburgh Park. Eleven builders have erected 20 homes to showcase the diversity of housing sizes and styles suited to the neighbourhood.
The fencing display showcases stylish options available in COLORBOND® steel, including a selection from the recently expanded range of colours.
Mr Wright said Roxburgh Park had become established as the sort of neighbourhood where people settled to spend decades in a friendly community. "We find that people are building for the future, not just for the short term," he said.
"They are choosing both the housing styles and the building materials that will serve them as their families needs grow and change - so they tend to think ahead when they build." Mr Wright said long lasting building materials such as COLORBOND® steel were becoming popular as a result of this trend.