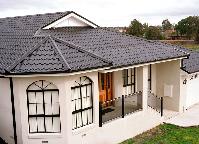 Steel Tile Profile a Whole New Roofing Option
14 August 2002
A bold innovation in steel roofing is offering homeowners the benefits of strong, lightweight steel in a style which echoes popular European tile profiles.
Austech Roof is an all Australian development which achieves the look of tiles with the advantages of long, continuous sheets of steel which are securely fixed from ridge cap to eaves.
Developed by veteran Melbourne builder Sam Ristovski, the new product is made from specially roll formed COLORBOND® steel.
Mr Ristovski said his roofing system had already found customers in several Australian states and there was interest from overseas.
"People choose it because they want the light weight, strength and security of steel - but they want a different look from the usual corrugated profiles," he said.
He said it had proved especially popular with builders of upmarket homes.
"Our customers don't want to use several tonnes of roofing material - it's heavy and they are concerned about long term maintenance," Mr Ristovski said, comparing traditional roofing tiles to the newly developed steel tiles.
Austech Roof provided the COLORBOND® steel advantages of light weight, resistance to hail and storm damage, and security against thieves entering through the roof.
The distinctive Austech profile suits a wide variety of architectural styles and is available in 18 standard COLORBOND® steel colours.
Mr Ristovski said Austech roofing offered this roofing system at a more cost competitive rate than other roofing materials.
"Where access is difficult or freight is a consideration, the light weight properties of COLORBOND® steel tend to give it an edge in terms of overall installed cost," he said.
"It also allows builders to save on trusses and load bearing walls because there is so much less weight to support."
For more information contact:
Sam & Vita Ristovski
Austech Roof Pty Ltd
85 Ridge Road
Whittlesea VIC 3757
Ph: 03 9716 1158
Fax: 03 9716 1995