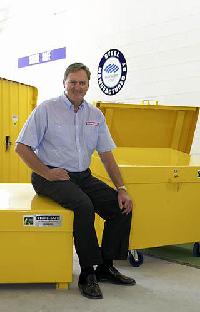 Store Safe Future Looks Secure
01 April 2005
Business is booming for an Australian owned company whose product testing is sometimes carried out by criminals. Store Safe, based in Leichhardt, Sydney with branches in Melbourne and Brisbane, manufactures tailor made safe custody storage containers.
The storage containers, fabricated from XLERPLATE® hot rolled steel plate manufactured by BlueScope Steel, are popular with retailers, especially those selling small, high value items such as mobile phones and MP3 players.
Store Safe manufactures dangerous goods storage containers in sizes from 850 litre capacity up to a massive 20,000 litres.
"We developed and patented our own locking device," said Store Safe managing director and company founder Grant Breeze. "It has proven to be very resistant to attempted break-ins by thieves.
"If there's a break-in attempt on one of our site boxes, we retrieve the site box from the customer and supply a new one. We immediately apply those lessons to further reinforcing the device on the very next production run, while developing the security features of the product range."
Store Safe, which Grant Breeze founded in 1988, has become a market leader in providing safe storage solutions such as safe custody boxes, cabinets and even buildings.
The company has also developed its own range of relocatable steel storage units, with specifications tailored to customers' requirements, for dangerous goods that require the highest safety levels for storage and transportation. Store Safe customers include police departments and the military as well as hundreds of retailers.
Store Safe recently joined the Steel By Brand Partnership Program by BlueScope Steel, and promotes its use of steel manufactured by BlueScope Steel.
"Our customers have remained loyal over the years," Grant Breeze said. "They know our products are reliable and they know that if there's a problem, we will fix it. Having the strength of an Australian brand such as XLERPLATE® from BlueScope Steel is also a big factor. When you're looking for a safe custody container you only want to purchase the best."
For further information contact:
Grant Breeze
Store Safe Pty Ltd
Ph: 02 9569 2122