Darwin Verandah House Scoops Architecture Awards
05 February 2003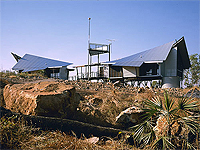 Location:
Northern Territory
Country:
Australia
Project Size:
200 square metres
Architect:
Adrian Welke
Troppo Architects
Star Village Arcade U18, Smith Street
Darwin NT 0800
Ph: 08 8981 9585
Fax: 08 8981 2006
Email: darwin@troppo.net.au
Products Used:
ZINCALUME® steel for Roofing
ZINCALUME® steel for Walling

Awards:
RAIA National Sustainable Architecture Award and a commendation in the residential category
A striking house in steel and glass perched midway up a steep ridge in virgin bushland near Darwin has captured two major prizes in the National Architecture Awards of 2002. The Rozak House was designed by Troppo Architects in Darwin on bushland surrounding Lake Bennet 80kms south of Darwin.
Designed for émigré American IT specialist, Mike Rozak, the house sprawls out in three modules across the ridge with an inside out theme. It has received the Royal Australian Institute of Architects (RAIA) National Sustainable Architecture Award and a commendation in the residential category.
The Royal Australian Institute of Architects awards jury found that the house made a powerful and striking contribution to contemporary architectural expression, while it successfully reassesses the notion of shelter and home.
The Rozak House illustrates how a building can embrace lightweight steel building technology to minimise its impact on the environment, while using solar power and rainwater collection to be self sufficient in power generation and water supply.
Troppo Architects' Alison Shepherd said the idea of interconnected pavilions proposed by Troppo principal Adrian Welke appealed to Mike Rozak, who was keen to create a house that felt like one verandah, where some separation between living and sleeping areas was required.
"The house design is a further development of the Troppo philosophy of camping, or living under a house," Ms Shepherd said.
While the entire house is only 200 square metres, it is 30 metres from end to end.
Each pavilion is clad on the outside with corrugated sheeting made from ZINCALUME® steel, which also met Mike Rozak's concerns about fire resistance.
ZINCALUME® steel is also used to create the pitched roofs which are designed to vent hot air out through the roof space by convection.
The steel theme is carried into the interior with the ceilings and walls made from ZINCALUME® steel.
"By repeating the outside textural element on the inside, the sense is reinforced that there is not much difference between indoors and outdoors," said Ms Shepherd.
"The lightness, sheen and reflectivity of the ZINCALUME® steel also assist in getting natural light into the house and reflecting heat back outside.
"The perforated nature of much of the sheeting increases natural ventilation, allows views through the material to the outside and still retains daytime privacy."
According to the RAIA jury 'the house responds to the peculiar and harsh Top End climate and demonstrates a clear understanding of how to produce comfortable architecture in a hot climate'.
Troppo Architects is now recognized as one of the leading award winning architectural practices in the country.