Award Winning Home Causes Minimal Disturbance
06 February 2004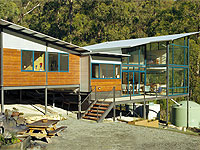 Location:
Oyster Cove, Tasmania
Country:
Australia
Builder:
David Leake
Southern Living Design & Construction Pty Ltd
Ph: 03 6272 8544
Mobile: 0419 551 026
Fax: 03 6273 2142
Products Used:
ZINCALUME® steel for Roofing
ZINCALUME® steel for Walling

Awards:
Finalist in the 2003 National HIA Most Innovative Use of Steel Award
An innovative Tasmanian builder has created a striking bush home which showcases environmentally sensitive construction. Builder David Leake's Oyster Cove home south of Hobart is an innovative step in environmental awareness and fire resistance.
As a finalist in the 2003 National HIA Most Innovative Use of Steel Award, the home demonstrates the advantages of steel construction while taking a pro-active approach to fire hazards.
"Careful selection of materials was vital in the construction of the home, which stands on an isolated site on a 10 hectare bush block without services or easy road access," Mr Leake said.
"Local experience has also shown that it's not a matter of if but when a bushfire occurs."
Every aspect of the project was taken into account during a lengthy planning process, which included consulting the local fire brigade.
The design of the home originated with the owners' desire to build a home that uses passive solar design principles, incorporating steel construction in a rural/bush setting.
A requirement was that the home made as little disturbance to the environment as possible during construction.
Roofing, guttering and partial wall cladding in ZINCALUME® steel were part of the solution.
ZINCALUME® steel's ability to be pre-cut off-site, its light weight and easier handling also reduced the environmental disturbance of the bush site.
"We also used a lot less building material by using steel than would have been necessary to achieve the same result with other building materials," Mr Leake said.