Award Winning House
15 December 2000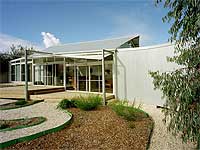 Location:
Ingle Farm, Adelaide
Country:
Australia
Architect:
Max Pritchard
Ph: 08 8377 1800
Products Used:
ZINCALUME® steel for Roofing
ZINCALUME® steel for Walling

Awards:
Royal Australian Institute of Architects 2000 Award of Merit for South Australia; RAIA Commendation COLORBOND® Steel Award.
This energy efficient house in Adelaide's Ingle Farm has won a Royal Australian Institute of Architects (RAIA) 2000 Award of Merit for South Australia for its maximum use of site and sun. The Architect, Max Pritchard, has worked extensively in the Adelaide domestic market and is known for his innovative steel designs.
"The budget was on a par with a project home and I wanted to make maximum use of the site and to provide the advantage of reduced energy consumption," he said. Mr Pritchard said he selected materials for economy, low maintenance, energy and performance, and to provide a fresh, modern appearance.
"The polished concrete floor acts as a heat sink, absorbing winter sun for re-radiation at night,". He said ZINCALUME® zinc/aluminium alloy-coated steel provided a lightweight, economic and durable cladding to the structure.
"Aesthetically, ZINCALUME® steel provides the contrast of light and shade," Mr Pritchard said. "Triangular windows at each end of the pavilion at ceiling level allow light to reflect off the silver steel cladding."
This house received a RAIA Commendation COLORBOND® Steel Award for its innovative use of ZINCALUME® steel. Judges were impressed with the light framed open pavilion which is placed down the south side of the site to maximise access to winter sun for passive heating, and to open up interior spaces to a shaded terrace garden.
"The long thin form of the house allows maximum northern sun in the garden, and also means more windows can face north," Mr Pritchard said. "Large sliding doors face north while to the south there are smaller openings allowing cross ventilation to provide summer cooling," he said.
Corrugated steel sheeting is used as the roof material, wall cladding, kitchen island and ceiling linings in the open living area.
Max Pritchard also received a 2000 RAIA State Award of Merit for a small house in the Adelaide Hills. It was built on three levels and clad in COLORBOND® prepainted steel and plywood, reflecting the texture and colour of nearby tree trunks.