Civic Design Creates Landmark Building
18 July 2002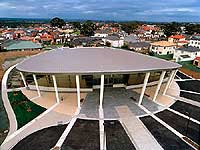 A new landmark library in Melbourne's City Of Whittlesea will serve more than 60,000 residents in the growing suburbs of Melbourne's north. The brief for the design of the Mill Park Library was for a civic style building that appealed to a wide cross section of the community, according to the City of Whittlesea Mayor, Cr Frank Merlino.
"We set out to create a state-of-the-art library, a landmark building that would serve the needs of our growing community for generations," he said. "Its distinctive interior and landscape design and the grand entry colonnade make this a signature building for the City of Whittlesea."
Oaten Stanistreet Architects achieved the brief by designing a practical, spacious building with a large curved portico which helps define the eye-catching exterior. However, it is the innovative curved roof made from COLORBOND® Metallic steel in the colour Cortex® that is most visually stunning.
Project Architect Geoffrey Stanistreet said COLORBOND® Metallic steel made by BlueScope Steel was chosen for its classic high quality finish. The look and texture of COLORBOND® Metallic steel changes depending on light and viewing angle.
As light passes over the mica particles in the metallic finish, the appearance of the painted surface changes and a perception of depth is achieved.
Builder Romando Nascarella of Melbourne-based construction company Devco said the COLORBOND® Metallic steel was shaped on-site over the 2,800 square metre roof.
The supporting CEE purlins, which are made from GALVASPAN® steel - a product made by BlueScope Steel - were positioned 900mm to 1200mm apart to accommodate the curved span of the roof. Architect Geoffrey Stanistreet said the curved roof added a dynamic shape to the building and enhanced the overall look.
Internally, the building provides a 2100 square metre open plan layout capable of being supervised from a central information desk. Services for the entire library are contained under the floor, which leaves the layout open to any future modifications.
The ceiling follows the curve of the external roof, sloping slightly from back to front. A series of 'Tulip' columns that support the large roof also contain air conditioning vents and downlights.
"The layout and design not only provides flexibility for now and the future but also maintains the clean sculptured form of the building," Mr Stanistreet said.