Purlins made from GALVASPAN® steel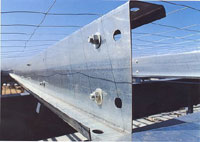 Product Description and Features
Cold formed, galvanised purlins made from GALVASPAN® steel have minimum yield strengths around 60 per cent greater than hot rolled steel purlins. This means lighter sections can be used and fixing times can be reduced using self drilling, self tapping screws.
Purlins backed and warranted by BlueScope Steel
Access to technical experts and project specific advice
Hi-tensile steel core, which produces a strength to weight ratio 60% greater then traditional hot rolled steel
A minimum zinc coating of 350g/m2 providing excellent corrosion resistance, durability and long life.
Common Uses of this product
Structural framing components for commercial/industrial buildings.
Warnings
All GALVASPAN® steel products are branded. Look for the brand to assure you're buying the 'real' thing.
Warranty
BlueScope Steel offers a warranty of 10 years from the date of installation against perforation by natural degredation, when used within the building envelope (not exposed to natural environment). Read more about BlueScope Steel Warranties.