Olympic Stadium Full of Running
02 August 2000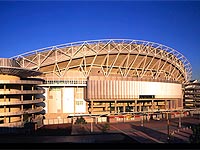 Location:
Homebush, Sydney, New South Wales
Country:
Australia
Construction Date:
December 2005
Project Size:
A$463 million
Client:
Stadium Australia Consortium
Architect:
Bligh Lobb Sports Architecture, joint venture between BVN and LOBB Partnership of London John Whatmore, Paul Henry, Rod Sheard, Chris Clarke, John Baker, Ben Vickery, Megan Ashfield, John Schooling
Engineer:
SKM / Modus Consulting Engineers with Sinclair Knight Merz
Builder:
Multiplex Constructions
Fabricator:
National Engineering - Roof and Main Stadium Transfield - End Seating tiers
Project Team:
Project Management: Olympic Coordination Authority Project and Material Technical Support: Jack Katon, Manager Olympic Projects
Products Used:
Purlins made from GALVASPAN® steel
LYSAGHT BONDEK®

Sydney's Olympic athletics stadium crowns the colossal Homebush Bay development like no other. Almost surely suffering Olympic overload, this is a timely rejuvenation for the city's psyche.
When all around seems bogged in construction, traffic jams and work in progress, the stadium is proof, if any was needed, of just how much Sydney will benefit. Records are already tumbling with this A$460 million construction.
Architects are among the big winners of the A$3.5 billion development. Bligh Voller Nield is already well advanced on stadia concepts in anticipation of Beijing's bid for the 2008 Olympics.
A passive ventilation system in the grandstands extracts air through thermal stacks to minimise airconditioning. Roof water is collected in large tanks to irrigate the playing fields. Escalator cores have light scoops on their ends. The whole form of the structure's cross section is designed to bounce light into the building to minimise power use. A transparent polycarbonate roof is used to reduce the amount of contrast between the shadow and sunlight on the playing field down to two camera stops. When players enter the shadowed part of the arena, the image can almost black-out. In typical stadiums there is about five camera stops of contrast.
Ecological profiling of different environmental costs of materials revealed that while steel used more energy in its basic fabrication and material forming, the amount of material used is less. LYSAGHT BONDEK® is used extensively throughout.
Written by Peter Hyatt