Country Retreat Offers Modern Style
23 October 2002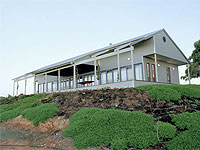 A country retreat nestled in South Australia's picturesque Clare Valley is offering a modern getaway for holidaymakers who want to experience the food and wine of the region in contemporary style.
Clare is a world renowned wine producing area with 30 wineries providing tastings and cellar door sales and a township featuring numerous antique and craft shops.
High Gate Country Retreat owner Don Howell said the retreat particularly suited "dink" (double income no kids) couples looking for a chance to get away from it all.
It can accommodate six people and is entirely self-contained with three double bedrooms, two bathrooms, air conditioning and wood fire.
The architecturally designed High Gate Country Retreat is a contemporary open plan house featuring roofing and wall cladding made from ZINCALUME® steel.
"Rather than choosing a rustic country style for this retreat, we wanted a very contemporary look which still pays tribute to the traditional Australian architecture of the bush," Mr Howell said.
"For this reason we used ZINCALUME® steel which blends with the environment. Corrugated steel is also an extremely low maintenance material - which is ideal in the accommodation industry," Mr Howell said.
ZINCALUME® steel, which has been developed by BlueScope Steel specifically to respond to Australian conditions, lines the Retreat's ceilings.
Timber decking and bi fold doors extend the entertaining area outside, taking advantage of the panoramic views over the valley.
The retreat has mature gums, a small vineyard, orchard and rose garden for guests.