Designer Brings Outside in with Lightweight Pole Home
20 December 2003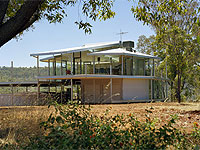 Location:
Western Australia
Country:
Australia
Architect:
Roger Joyner
RSJ Projects
23 Wilson Road
Lower Chittering WA 6084
Ph/Fax: 08 9571 8484
Mob: 0419 600 519
Email: piltdown@bigpond.com

Products Used:
ZINCALUME® steel for Roofing
TRUECORE® steel

Awards:
Western Australian Building Designer Association award for Best Residential Building under 200 square metres
A building designer has overcome the obstacles of a bushfire prone, termite ridden sloping site to create an award winning home on the outskirts of Perth.
Roger Joyner, who lives on the 18 hectare site in WA's Lower Chittering with his wife Gill, devised a design to survive these conditions while maximising views of, and minimising disturbance to, the natural bush surrounds.
The resulting pole home utilises a series of steel posts, 'C' sections and 'Z' purlins to create a lightweight, high strength steel home that sits lightly on the surrounding environment.
The two main levels of living space sit off the ground, with varying floor and roof heights on both levels creating a myriad of panoramic views.
The complete elimination of all solid walling, through the extensive use of glass, maximises the views.
The home is capped off by a irregular octagonal roof made from ZINCALUME® steel and featuring eight different pitch directions. The East West planes have been raised 600mm to create the space for the clerestory window.
So as not to obstruct views from the upper levels, a 164,000 litre water tank sits underneath the home, as does the garage which is also clad in ZINCALUME® steel.
"Disturbance of the bush was kept to a minimum to promote the feel of living in the landscape," Mr Joyner said.
"The blurring of the 'inside/outside' was a major ethic in the design process aimed at creating a light and airy feel throughout the home."
Mr Joyner said termites were ever present in the area and local bush fires were accepted as part of living in the bush environment.
"We wanted to address these issues when building, while maximising the unobstructed scenic views," he said
"We chose ZINCALUME® steel for the roof partly because of its superior thermal efficiency qualities."
Internally, the home's upper area features the master bedroom complete with ensuite, and an open plan kitchen and living space as the main area for entertaining.
The second, segregated level houses a second bedroom and bathroom, as well as a large home office space with sweeping views over the 18 hectare site.
Roger Joyner was recently rewarded for the design, winning the WA Building Designer Association award for Best Residential Building under 200 square metres.