Hiller Residence Local Hero
02 August 2000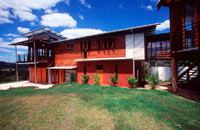 John Mainwaring's recent forays into residential design continue to challenge the aspirational premise of luxury billboarded in lottery mailouts. He evokes Boyd's memory like few others, thus the Chapman Residence at Noosaville which shared the accolade in November 1996, recognises mighty persistence and special talent.
Following hot on the heels of his award triumph, Mainwaring has completed another project at the property known as "Mountview" near Kennilworth, 40kms west of Noosa. Many architects have discovered the possibilities of steel, but few use it with such finesse and imagination. At 48, it is obvious that Mainwaring is in a sharp groove.

The original farmhouse has been dramatically modified, re-built and reinforced with steel to permit its structural integrity. In plan the three buildings form a crescent shape and are connected with timber walkways.
The first project was the guest house, which consists of two pavilions connected by a bridge. Its silver corrugated steel LYSAGHT CUSTOM ORB® sheeting produces a feathered, thermally efficient envelop, while the butterfly roof shape allows effective cross ventilation.

The south western wall, a corrugated wave of LYSAGHT CUSTOM ORB® was selected as the antithesis of the simple geometry of the old homestead. The steel corrugated lid to the extension fits over the protector wall and is supported by sloping steel pipe posts which are expressed outside the wall and support the large western overhang.
Earlier attempts at renovation resulted in the clumsy folly of post modern latticed sheds. In their own way such mistakes are healthy reminders of difference; of disasters avoided. These contrasts also highlight Mainwaring's interpretation of the site and his intuitive handling of materials.
Written by Peter Hyatt