Olympic Equestrian Centre Rising Fast
02 August 2000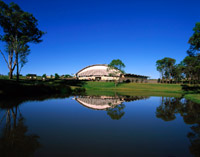 Location:
Horsley Park, Sydney, New South Wales
Country:
Australia
Project Size:
A$37 million, 80 hectare site
Client:
Olympic Coordinating Authority
Architect:
Equus 2000, comprising: Timothy Court & Co. Scott Carver and SJPH Design Partnership
Engineer:
Kinhill
Builder:
Lipman
Fabricator:
Adua Steel
Project Team:
Modular Stables: JW Builders
Earthworks: Daracon
Products Used:
ZINCALUME® steel for Roofing
LYSAGHT CUSTOM ORB®
LYSAGHT KLIP-LOK® 406

Plenty of familiar names dance in the sunlight of the Homebush Bay Games site so it is rewarding to discover lesser known solar systems glittering on the edge of the Olympic venues galaxy. One of these is the Equestrian facility at the aptly named Horsley Park 40 kilometres to Sydney's west.
With so many good Olympic projects now opening, Sydney shapes as a serious rival to the Barcelona Olympics with architecture of uniformly high quality and a few of the standout variety. Get ready for some solid praise for this project and watch closely to see how it performs in the State and National architecture awards in 2000.

A trifecta of three practices comprised Timothy Court, Scott Carver and SJPH Design Partnership. Perhaps surprisingly the project mirrors a seamless integration. Displaying subtlety and flair in the one sweep, its layered, shell-like form moulds beautifully into the landscape and proves that collaborations are far from doomed.

The actual site covers 80 hectares and involves master-planning as well which involves location and planning of 18 competition arenas. The surfaces were designed by Herman Dubcech who has handled equestrian surfaces for the past eight Olympics. From a budget of A$37 million, A$9 million went towards earthworks which represents the movement of 300,000 cubic metres of soil.
There's an incongruity about those buildings because they nestle into the landscape and yet, with their folding COLORBOND® steel forms they become giant shells against the verdant green.
Written by Peter Hyatt