Olympic Park Railway Station
02 August 2000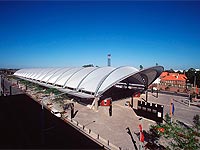 | | |
| --- | --- |
| Location: | Homebush, Sydney, New South Wales |
| Country: | Australia |
| Project Size: | A$95 million |
| Architect: | Hassell Group: Ken Maher |
| Engineer: | Tierney & Partners |
| Builder: | Leighton Contractors Pty. Ltd. |
| Fabricator: | Alfassi Constructions |
| Project Team: | Rodney Uren, Geof Crowe, William Smart, John Woodman, Andrew Cortese |
| Products Used: | ZINCALUME® steel for Roofing |
For once the hoopla surrounding a major urban development is fully justified. The A$3.3 billion Olympic site development comes as a relief from the posturing that passes itself off as world class.
Fireworks and cocktail parties now accompany so many project openings that the rest of the world seems to be hibernating. For many these are little more than distress flares and distraction. Alas, too little too late.
Designed to handle Olympic sized crowds of up to 50,000 people an hour, the station provides a gateway to the site. Occupying a footprint of 25metres by 200metres, the roof provides a striking signature that recalls the great railway stations of the 19th Century within a 21st Century context. The ZINCALUME® steel roof comprises 18 arched steel frames in a folded vault configuration.

It recalls, amongst others, Waterloo Station in London by Nick Grimshaw with its fantastic steel vaults and arches. Architecture is part of a long journey and comes out of long traditions.
The building is quite long but modest in scale externally. From within, it reads dramatically. It occupies a site full of quite strong, expressive, gestural buildings.

The two way curving pipe elements at a large scale and the finer ribs that sit like virendeel structures that brace those provide a highly three dimensional quality. The basic structure is quite sculptured and this becomes an important contributor to the character of the building.
Written by Peter Hyatt