Osborne Residence Small Wonder
02 August 2000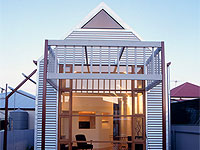 Max Pritchard is an architect whose work is amongst the most lively and animated in Australia. Pritchard is schooled in modest budgets but none of this curtails a vigorous imagination. His report card could read: Highly constructive student... lively, affable and creative but insufficiently brash to win favour with the school magazine and local media. Sharp, alert and personable... displays no fear of bullying tactics.
There are many ways to package the goods and Pritchard has made it an artform in the manner perfected by the Japanese and reflected right across its culture. Partly because he is Adelaide based and away from the cocktail circuit, Pritchard is one of Australian architecture's best kept secrets.

Pritchard's most recent project, the Foundry Street Cottage at inner suburban Goodwood, should be virtually invisible from the street with a frontage of less than six metres. What sets it apart from bluestone neighbours is not pastiche but a vigorous compression of contemporary ideas.
Pritchard's comfort levels with steel are obvious and he is absolutely unequivocal here in his use of ZINCALUME® steel to embody concerns with climate, place and time. This architecture utilises effective, functional technologies. In this case a simple steel portal frame clad in corrugated sheet steel.
A simple steel portal frame provides the skeletal form with a ZINCALUME® steel skin as the envelope. The building form of pitched, gable end roof, arches to the carport and entry and the combination of LYSAGHT MINI-ORB® and LYSAGHT CUSTOM-ORB® was designed to relate to existing forms and detailing of the century old neighbours.
Written by Peter Hyatt