People Who Live in Glass Houses Still Need Steel
15 June 2002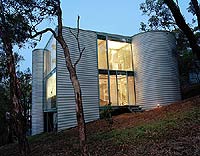 An architect who designed his dream "home among the gum trees" 15 years ago and put the finishing touches to it last year has now put it up for sale. Well known Australian architect Peter Risbey designed and built his house in Adelaide's Eden Hills.
The design of the two storey home had to take in a number of considerations: the sloping site, its bushfire zone location and the fragile bush surrounds. To accommodate these exacting demands Mr Risbey relied heavily on the use of ZINCALUME® steel.
Made by BlueScope Steel to be suitable for harsh Australian conditions, ZINCALUME® steel provided a lightweight, non intrusive, easy to construct solution.
"I designed the structure to be visually light, provide minimal intrusion into the bush surrounds and to be inherently strong," Mr Risbey said.
"Because the house is situated on a north-facing slope in a bushfire zone I sought a material that was non combustible and also invulnerable to white ant attack."
The home uses ZINCALUME® steel for the framing members, wall cladding and roof.
"The use of cladding made from ZINCALUME® steel allowed me to cover large areas of the home with a durable lightweight material at relatively low cost," Mr Risbey said.
Large floor to ceiling windows across the front of the house provide the upper level with sweeping views of the bush surrounds and reduce the internal and external barrier throughout the open plan lower level.
But it is the house's large steel cylinder shapes made from ZINCALUME® steel that are most striking from the outside.
The cylinders - designed to resemble the traditional outback water tank - offer a practical and eye-catching dimension to the home.
"Externally the cylinders restrict the opportunities for looking into the house and soften the edges that are presented to the landscape," Mr Risbey explained.
"Within the home, the cylinders enclose a series of private areas."
One houses a bath, another a circular sitting space and another a spiral staircase.
The presence of steel continues inside the house, with all internal walls made from ZINCALUME® steel to maintain continuity between the internal and external aesthetics.