Striking Modern Design Has Air to Breathe
05 February 2004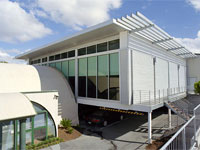 Location:
Queensland
Country:
Australia
Architect:
Jeff Osman
Osman Designpac
Ph: 07 3841 3200
Fax: 07 3841 3327
E-mail: designpc@bigpond.net.au
Web: www.osmandesign.com.au
Products Used:
ZINCALUME® steel for Roofing

An award winning Queensland designer has created a modern commercial sports facility with air to breathe in an innovative renovation of a Queensland gymnasium. Designed by Osman Designpac Building Designers, the renovation is an amalgamation of modern technologies and cutting edge style.
Striking features such as an extended pergola and cladding made from ZINCALUME® steel give the exterior of the building its modern appeal.
"The clients wanted a cost effective design that could later be carried through to the rest of the building when the entire structure is renovated," says Osman Designpac's Jeff Osman.
Mr Osman dramatically redesigned and reinforced the existing structure, changing it from an ordinary industrial "shed" to a stylish new aerobics facility.
He also created an extension on what was originally an open deck and designed a new aerobics facility over the existing structure. The existing deck was redesigned and reinforced for its new life
"We wanted to do something different with the building that is both visually stimulating and that works in with the existing structure," says Mr Osman.
He said roofing made from ZINCALUME® steel was instrumental in keeping the building cool in summer and providing a cost effective alternative to other roofing materials. Passive solar design is a major priority in all of Mr Osman's work.
All his designs undergo sun angle analysis, with the sun tracked at different times of the day to determine light intensity and shade through the use of computer modeling.
Mr Osman said analysis of cross flow ventilation and breeze control was a vital design aspect, enabling efficient airflow both in and out of the building. Osman Design offers 3D computer illustrations and presentations to all its clients, giving them the opportunity to view their building before it is built.