Wright Residence Stealth Bomber
02 August 2000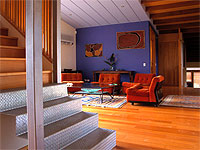 Location:
Noosa, Queensland
Country:
Australia
Project Size:
A$300 000
Architect:
John Mainwaring and Assoc:
John Mainwaring, Stephen Guthrie & Jeff Lee
Engineer:
Tod Group
Builder:
Ron Scholes
Fabricator:
Steel and Ensoll
Products Used:
ZINCALUME® steel for Roofing
Walling

For all the publicity that purports to represent a slice of contemporary Australian architecture, few include work by the Sunshine Coast group of John Mainwaring, Gabriele Poole and Clare Design. This situation is changing, but much of the pressure is from outside with recognition arriving via international interest. This local architectural voice, or vernacular, is worth retaining if for no other reason than it helps to redress the loss of the particular at the expense of the general.
John Mainwaring's Wright Residence in Noosa's hinterland marks its territory sensitively and with distinction. This elongated steel pavilion with characteristic skillion roof provides a great launch pad. Presented as a series of thin edges, the house appears like pages of an opened book.

Rather than a single skin or resolute box, the design is attenuated and animated by awnings, louvres and screens. But these are never arbitrary add ons in the vein of so much spec. housing riddled with throw away references to an imagined sub tropical environment.
From the street elevation, the house flows with the fall line of the steep site. The ZINCALUME® steel roof reads as a long thin blade or a flowing pencil line scribed through the air.

Materials juxtapose rhythmically inside and out. Galvanised steel stairs for instance connect easily to timber. Externally, ZINCALUME® steel and COLORBOND® steel define specific segments - silver for the lower floors, red for the top and a silver roof. On the high wall facing neighbours, ochre toned COLORBOND® steel is used to eliminate reflections.
Written by Peter Hyatt