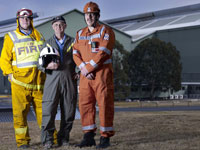 BlueScope Supports Victorian Bushfire Recovery
02 March 2009
In recent days, Victoria has experienced an unprecedented bushfire tragedy claiming many lives, injuring countless others and destroying more than 1000 homes.
Our thoughts and deepest sympathy are with all those affected bythis tragedy.BlueScope Steel recently announced a A$1 million donation of steel building products and construction services to help rebuild communities destroyed by the Victorian bushfires.
We have a capability that is unique in Australia to design, manufacture and build pre-engineered steel buildings. These buildings can serve as aid centres, community facilities, clinics, school halls and other vital infrastructureand can be manufactured and built within a matter of weeks. We also are considering providing water tanks, steel sheds, and fencing material. We will work together with key authorities and aid agencies to implement this package.
BlueScope Steel employees also wanted the opportunity to contribute. We have established a facility to enable our 10,000 Australian employees to make pre-tax donations direct from their salaries to the Red Cross Bushfire Appeal. To date, our employees have donated more than A$100,000.
A number of BlueScope Steel's Victorian employees, including 15 employees from our Western Port plant at Hastings, are volunteering with the CFA and SES.
Our communities are our homes. All of us at BlueScope Steel embrace this responsibility. There is no better time than now to demonstrate this principle by lending our support to this important recovery program.
Read more about the BlueScope Steel Bushfire Recovery Package.
Image: From (left to right) Western Port: Tony Brown, Peninsula Group Officer, Country Fire Authority; Michael Carr, Air Attack Supervisor, FLIR operator, fire fighter, Country Fire Authority; Paul De Bruyn, State Emergency Service volunteer, Hastings