How to Register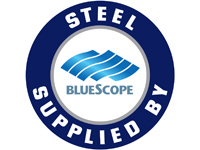 If you'd like to register for the STEEL BY™ program, simply complete the registration form enclosed with the brochure or downloadable below, and return it to BlueScope Steel Direct, via free fax: 1800 882 332. Or mail it to: BlueScope Steel Direct, Locked Bag 8825, Wollongong DC 2500, NSW.
Contact us to request a brochure and registration form.
You can also download a registration form here.
You must have your steel sales representative sign your registration form, verifying that you comply with the brand partnership criteria.
If you are uncertain whether your organisation meets the eligibility criteria, and would like to know more about using the STEEL BY™ logo, please contact your nearest BlueScope Steel sales office, or BlueScope Steel Direct: 1800 800 789.