Use of the Logo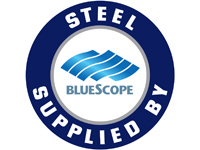 You can use the STEEL BY™ brand partnership logo in any number of ways to gain maximum exposure for your company's brand partnership with BlueScope Steel.
Placed next to your own company signage, our STEEL BY™ BlueScope Steel logo adds strength in so many ways to your ongoing marketing efforts and identifies your company as a supplier of products incorporating high quality steel from Australia's leading steel company.
You can use the logo:
As an integral part of your office, factory or warehouse signage.

In all your television, print, cinema and outdoor advertising, as well as your Yellow Pages listing.
On your website.
On your promotional, product and technical brochures and material.
On all your company vehicles.
On stationery – in association with your own brands and logos.
On all your packaging.
On your staff uniforms or clothing.